Mice & Men Wiki! Where George likes to milk cows insanely strong
Welcome to the Of Mice and Men wiki! Here, you will find a variety of information about the novel Of Mice and Men by John Steinbeck. You can browse our wiki by using the Navigation section to the right, the navigation bar at the top of the wiki, or by simply searching for information in the "Search" box. Below is a list of links and resources if you wish to learn even more about Of Mice and Men or if you wish to see what other people are doing with this amazing book!
Characters
Featured Article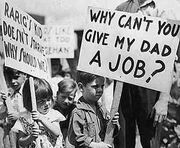 The Great Depression destroyed the economy of North American and European industrialized areas. It started six months prior when the economy started to fall into depression, however most people identify the beginning of The Great Depression on October 29th, 1929, when the Stock Market heavily crashed.
In October, when the Stock Market crashed, it wiped out 40% of the value of a common stock paper. As the depression continued, many lost their life savings and by 1933, the stock market was one-fifth the value it was before the crash in 1929. Many businesses went bankrupt, and over half the banks in the United States failed and had to close. Income fell roughly 50 percent in farming. By 1932, more than 25% of all United States citizens were unemployed.
Use the navigation bar at the top of the page to navigate the wiki, or use the links below:
Play Our Of Mice and Men game!
Play the super-amazing Of Mice and Men game! See how fast you can match the answers to the question!
Featured Video
Activity